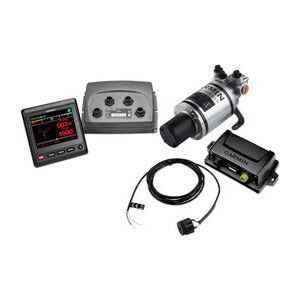 Compact Reactor 40 Hydraulic Autopilot with GHC 20 Corepack
Garmin
CALL US FOR PRICE ON THIS PRODUCT
Ideal Entry-level Autopilot System
Includes Compact Reactor 40 starter pack and GHC 20 marine autopilot control unit
Recommended for maximum outboard size of 115HP 4-stroke or 150hp 2-stroke.
Solid-state 9-axis Attitude Heading Reference System
Minimizes heading error, course deviation, rudder movement and power consumption while providing a comfortable ride
Minimal commissioning and calibration
The Compact Reactor 40 hydraulic autopilot provides relief from manually holding the wheel to maintain course, especially when cruising at moderate to high speeds. Sit back at the helm, and enjoy your time on the water as the solid-state 9-axis AHRS technology delivers a comfortable ride,
This pilot connects to your Garmin combo screen thru the NMEA 2000 but also has its own display to control the pilot.
OUR THOUGHTS...
This is a good low cost option for smaller boats with a maximum outboard size of 115HP 4-stroke or 150hp 2-stroke.
If you already have a Garmin combo and want to add a pilot to the boat this is the way to go. Note this option uses the combo screen to drive the pilot or uses its own separate display.
SKU: 010-00705-08