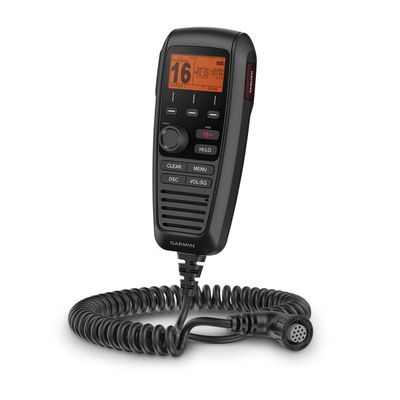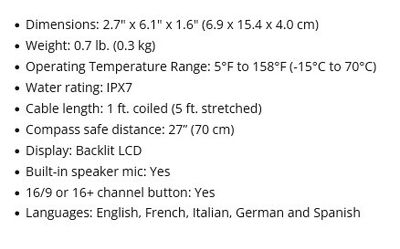 Garmin GHS 11i Wired VHF Handset
Garmin
$449.00
GHS 11 allows full function of your VHF 215 radio from a remote location. There are no complex components, just a simple design that includes soft keys, a 2" diagonal dot matrix display and a coiled cable that stretches from about 1' to nearly 5'.
A rotary/push knob for volume, squelch and channel selection makes it easy to use with a dedicated button for access to channels 16/9. All buttons and knobs resemble those of the VHF radio.
In addition, GHS 11 features a microphone that has intercom capabilities when connected to a speaker.
Compatible with VHF 215i, 215AIS and 315i
Dimensions: 2.7³ x 6.1³ x 1.6³ (6.9 x 15.4 x 4.0 cm)
Weight: 0.7 lb. (0.3 kg)
Operating Temperature Range: 5°F to 158°F (-15°C to 70°C)
Water rating: IPX7
Cable length: 1 ft. coiled (5 ft. stretched)
Compass safe distance: 27" (70 cm)
Display: Backlit LCD
Built-in speaker mic: Yes
16/9 or 16+ channel button: Yes
Languages: English, French, Italian, German and Spanish
In the Box:
GHS 11
Deck cable (10 meter)
Microphone hanger
Mounting hardware
Documentation
Refer to Instructions Manual
SKU: GHS11I WIRED HANDSET