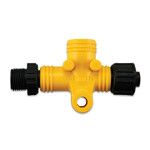 Garmin NMEA2000 Power Isolator
Garmin
$49.00
Use this NMEA2000 power isolator to ensure sources that could power the bus are separated properly during installation of the NMEA2000 network.
OUR THOUGHTS...
These devices are used to electrically isolate the navigation powered and engine powered parts of an NMEA2000 network when you have two powered points, such as one being powered by the engine ignition switch.
Without one, you could possibly parallel your engine and start batteries through the NMEA2000 network, or your NMEA2000 network could power off when the engine does.
If you need assistance designing your network contact us for help.
SKU: NMEA2000 POWER ISOLATOR