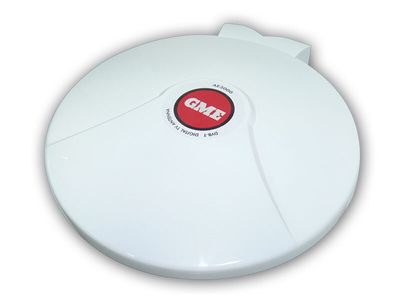 GME AE3000 digital TV antenna
GME
$335.00
The GME AE3000 is a dual loop active broadband digital TV antenna designed specifically for marine and mobile use. This unique broadband antenna ensures good balanced reception on all digital terrestrial TV channels.
Unlike traditional TV antennas the AE3000 is omni directional so it will continue to provide good reception if your vessel changes course or swings at anchor. For land use this means that there is no requirement to aim the antenna at each new site or when switching between stations located in different directions. The AE3000 has a built-in amplifier using the latest technology, a low noise GaAs MESFET amplifier ensures low noise interference in weak signal areas and minimum interference from strong local signals by preventing overloading which can cause picture distortion, meaning that you receive a perfect TV.
OUR THOUGHTS... We've put these antennas on a few boats and they have worked very well. Resolve Salvage used these antennas on their tug boats when they were salvaging the Rena!
In the box -
Antenna Dish
10m Coaxial Cable
Mounting Hardware
Deck Mounting Pole
Mast Mount Bracket
Power Injector
Refer to Instruction Manual
SKU: AE3000