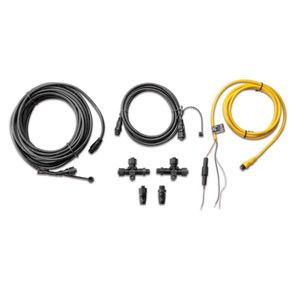 NMEA 2000 Starter Pack - Garmin
Garmin
Sale $209.00 $189.98
This starter kit builds a basic NMEA 2000 network on your boat. It includes an NMEA 2000 drop cable (2 m) (to go to chartplotter normally), NMEA 2000 backbone cable (10 m) (to go to sensors), NMEA 2000 power cable (2 m) (Powers Network), 2 NMEA 2000 T-connectors, NMEA 2000 male terminator and a NMEA 2000 female terminator.
OUR THOUGHTS...
These kits are great - buy everything you need at a reduced price at reduced hastle - make sure you don't forget anything!
If you're looking to save a few bucks, check out the Navico kit, It's way cheaper, but if you're planning on plugging a Garmin T into a Navico T, just bear in mind it will work but the T will be at a different angle!
SKU: NMEA2000STARTERKIT