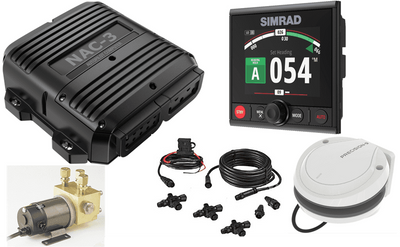 Simrad Autopilot - AP44 VRF high capacity pack.
Simrad
$4,839.00
Product Description
The AP44 Autopilot Controller combines Simrad Continuum steering technology with a full colour display, intuitive rotary dial and button controls, and modern glass helm styling. Free your hands from the wheel, cruise in comfort, and discover new ways to search for fish; this dedicated controller offers easy access to automated turn patterns, No Drift steering, depth contour tracking, and other advanced pilot features. Connect your chartplotter to add waypoint and route navigation, and enjoy full autopilot control from compatible Simrad displays.
Key Features
Rotary-dial course adjustment with new intuitive autopilot control
Optically bonded 4.1-inch color display
Easy setup with auto tuning and calibration
Simrad Continuum steering technology
All new intuitive autopilot control
Automated turn patterns
No Drift steering
Depth contour tracking
Low-profile 'Glass Helm' design
Low power consumption
Certified NMEA 2000 connectivity
Intuitive Autopilot control - The point of a dedicated autopilot controller is to enable immediate access to auto-steering functionality, placing key controls within easy reach. Designed with that purpose in mind, the AP44 includes an intuitive interface with just four buttons and a push-to-enter rotary control dial
Automated turn patterns - Your Simrad autopilot can do much more than keep you on course. The AP44 gives you easy access to a range of built-in turn patterns designed to assist with fishing, diving, or just making a quick and efficient U-turn.
Simrad Continuum steering - Every Simrad steering innovation builds upon a legacy encompassing over sixty years of autopilot development, which continues today at Simrad Yachting's autopilot research hub in Norway
Easy setup with auto tuning and calibration - Autopilot installation and commissioning doesn't have to be difficult or time consuming. The AP44 offers automatic tuning to ensure optimal auto-steering performance, with a simple on-screen commissioning process including dockside configuration and sea trial
NAC-3 - The NAC-3 Autopilot Computer is the brains behind your autopilot system. NAC-3 contains the control algorithms developed to helm a yacht across a broad range of weather conditions and sea-states, alongside the electronics needed to operate a hydraulic or mechanical drive unit, while also interfacing with other components including heading sensors and rudder feedback units. The NAC-3 was designed for boats 10 metres (33 feet) or greater in length and is rated to operate high-current hydraulic drives, mechanical drive units, and solenoid valves with a current rating of 30 Amps continuous (50 Amps peak).
The Precision-9 Compass supplies heading and rate-of-turn information to Simrad, B&G and Lowrance autopilot, radar and navigation systems. Based on reliable solid-state sensor technology, this compact compass offers easy installation aboard any vessel.
Heading, Rate Of Turn (ROT), roll, and pitch output over NMEA 2000
Heading and ROT calculated using sensor data from 9 axes of rotation and motion
Accurate and reliable solid-state sensor technology
Heading accuracy of after calibration
Easily adjustable mounting bracket allows bulkhead or up-mast installation
IPX7 waterproof. Best in class.
Simple installation with a single NMEA 2000 connection
SKU: 000 13562 001