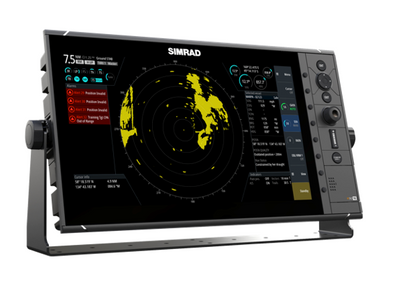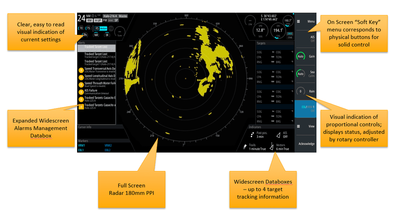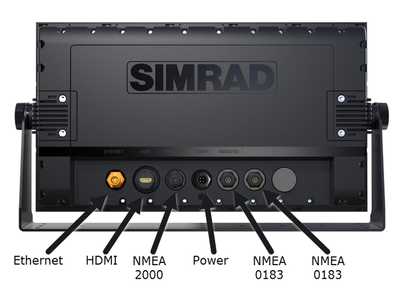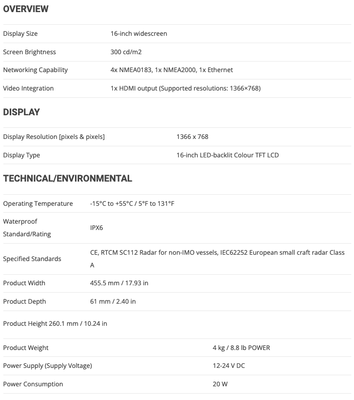 Simrad R3016 Radar Control Unit 16"
Simrad
$5,219.00
The Simrad R3016 is a dedicated Radar Control Unit with integrated 16-inch widescreen display, compatible with a range of Simrad radar solutions including Halo™ Pulse Compression, Broadband 3G™/4G™, and HD Digital Radar.
Features
Dedicated RADAR displays
9" Portrait & 16" Widescreen
Simple operation with 8 direct-access menu keys
New, fresh UI for ease of use
Large buttons for reliable operation in all conditions
Remotely controlled by O2000
Bracket or flush mount options
Ethernet, NMEA 0183 & NMEA 2000 connectivity
Key Selling Points -

16" widescreen display: 1366 x 768 pixels
Meets IEC 62552 (pending) for small craft RADAR requirements for Class A vessels (When paired with specified Simrad Radar)
4x NMEA0183, 1x NMEA2000, 1x Ethernet
1x HDMI video repeater output
Simple, low impact installation
No separate processor, embedded console design
Ethernet, NMEA0183 & NMEA2000
Highly advanced Digital auto tuning system
Latest generation anti-sea clutter STC to allow an optimum picture under adverse weather conditions
Superior target resolution with advanced beam sharpening technology (available with 4G and Halo)
Certified to rigorous International Standards
meets IEC 62252 (Pending) when paired with specified Simrad radar systems.
Easy to operate Interface
Consistent with modern Simrad user interface, Easy to operate
Simple operation with 8 direct-access menu keys
Easy to learn/lower training costs
Remotely controlled
O2000 Controller used to create a remotely-operated clone station ideal for dual-helm vessels.
SKU: 611032