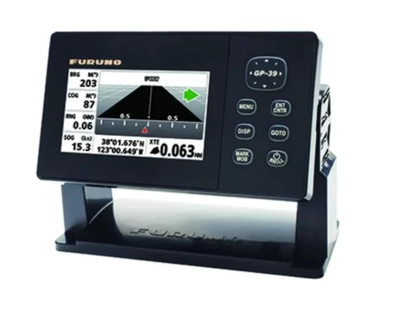 Furuno GP39 GPS/WAAS Navigator with 4.2" colour LCD Display
Furuno
$995.00
Out of stock
Accurate and Reliable Position Fixing - The Furuno FURUNO GP39 GPS Navigator provides accurate and reliable position fixing, thanks to a 12-channel GPS receiver combined with integrated SBAS (WAAS/EGNOS/MSAS) technology. Up to 3,000 points of ship track, 10,000 waypoints and 100 routes (each with up to 30 waypoints) can be stored. The waypoint and route data can be exported/imported via a USB flash drive or signal converter.
Accurate positioning for all of your electronics - The GP39 can be networked with a Fish Finder, Sonar, Radar or other navigation equipment for feeding highly accurate navigation data. The GP39 receives the TLL (Target Latitude/Longitude) sentence from networked fish finders or sonars and can display the received information, allowing you to easily mark fish school locations.
Versatile and customizable display modes - The GP39 displays navigation data in a wide variety of numerical and graphical formats, including Plotter, Highway, Steering, NAV data, and Satellite monitor, as well as 2 user-customizable display modes, allowing you to select which data you want displayed on its 4.2" color LCD. You may freely select which data you want displayed with easy to use controls. The combination of a high resolution screen and large data fields makes the screen easy to read in almost any condition.
Specifications:
Data Type NMEA0183
Display Size 4.2 Inches
Display Type Color LCD
Power Usage 12-24 VDC
Receiver Type WAAS or GPS
Refer to Manual.
SKU: GP39