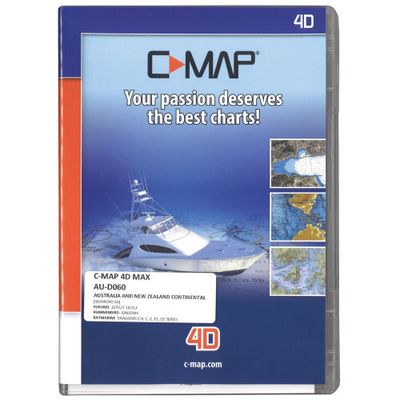 C-MAP 4D Max Chart
$349.00
C-Map 4D chart Suits Furuno DB7 - DB9 / GP1670F - GP1870F
The C-MAP 4D MAX Chart Card is the only maritime chart plotting solution that lets you completely customise your digital navigation charts. This card features MAX content and you can choose when to purchase additional Value-Added-Data to enhance your boating or sailing experience. With C-MAP 4D MAX, you enjoy your time on the water knowing your digital marine charts and GPS maps are based on reliable, updated marine navigation and information.
Satellite Images with 2D and 3D Overlay
C-MAP 4D MAX includes a navigational perspective with high-resolution coastal imagery overlaid on the most accurate and up-to-date vector data, plus thousands of extraordinary photos for the most popular marinas and areas of interest.
Digital Raster Charts with 2D and 3D Overlay
With raster charts, you have an additional reference source for navigational awareness. Get "at-a-glance" information using the nautical paper charts overlaid on the multi-dimensional shaded relief to have a new visual experience.
Enter start and end points along with specific boat parameters and automatically receive way points of the shortest route; highlights potential hazards and displays varying levels of alerts for each segment of the route, allows you to manually adjust the route.
C-MAP 4D MAX Chart Card Features:
Base Cartography
Port Info
Tidal Heights
Tidal Flows
Animated Tidal Arrows
Ocean Currents
Guardian Alarm
Detailed Harbour Charts
C-Marina Port Database
Major Roads
Detailed Roads
Aerial Photos
Land Elevations
Nav-Aids
Multi-Language (UNICODE)
Perspective (Bird's Eye) View
SKU: CMAP 4D