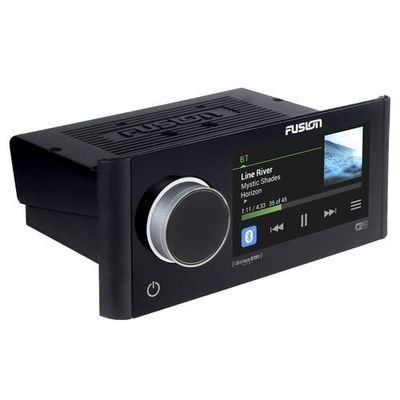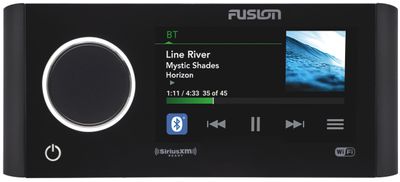 Fusion Apollo RA770
Fusion
$1,299.00
The world's first touchscreen marine stereo with Apple AirPlay and built-in Wi-Fi, the Apollo RA770 has redefined audio excellence with revolutionary technology and innovative design including Fusion's Digital Signal Processing, PartyBus, over-the-air software updates, a one-piece glass display and more source options than ever before, including advanced SiriusXM features. From the kick drum to the eardrum, Apollo has made it inherently simple to customize your audio entertainment for superior sound quality in any area of your boat. The future of marine audio entertainment has arrived.

Features:

Industry-First Marine Stereo With Apple AirPlay - With the Apollo Series you can now stream high quality audio seamlessly via Apple AirPlay over Wi-Fi from your compatible Apple device to the Apollo RA770. Note: Software update v2.40 is required. AirPlay is not supported over PartyBus.

World's First Marine Wi-Fi Stereo - High quality audio streaming is now available via Wi-Fi, delivering a higher data transfer rate in comparison with Bluetooth. Enjoy perfectly synced music throughout your vessel by wirelessly connecting multiple Apollo stereos via PartyBus.

Digital Signal Processing (DSP) - A technically superior listening experience made simple, Fusion DSP produces superior sound quality in every environment. Precisely calculated loudness curves optimized for the human ear ensure quality, full range audio at every volume level, while the feed-forward limiter anticipates a peak in the audio and adjusts the gain to make distortion, at any volume level, a thing of the past. Using environmental information and customized Fusion speaker profiles, you can now achieve customized, optimized audio for any area of your boat, resulting in an entertainment system that is perfectly tuned for premium audio reproduction, and programmed to protect your system season after season.
Setting up your DSP profiles is made simple with the free Fusion-Link app, or with a custom-made Fusion-Link PC app for OEM boat builders. With just a few clicks, you can set up the preconfigured DSP profile once and get back to enjoying what you love on the water, while listening to high quality audio customized for your ears and the environment.

PartyBus - Enjoy the freedom of musical choice with the Apollo Series and Fusion-PartyBus. With Party Mode, Personal Mode, and finally the ability to switch between the two without disrupting the audio in other areas of the vessel, PartyBus is Fusion's audio distribution network of the future.

Glass Touchscreen Display - The future of marine audio entertainment has arrived in the Apollo RA770 with its 4.3" LCD color touchscreen display. Simply tap the screen to pause and play, or swipe through your playlist to your favorite song - fiddling around to locate the right button is now a thing of the past.

Over-The-Air Software Updates - The Apollo Series is intelligently simple and always up to date, thanks to the over-the-air software updates available over Wi-Fi from your smartphone or compatible device via the free Fusion-Link app.
More Source Options Than Ever Before - The Apollo RA770 features more source options than ever before, with Bluetooth, UPnP, Optical Audio, advanced SiriusXM features and DAB+ radio available, AM/FM radio, AUX and USB connections ready at your fingertips.
Advanced SiriusXM Features (USA only) - Along with the addition of on-screen album art, a selection of advanced features are now available on SiriusXM! These features are:
Instant Replay
where you can replay songs from up to 1 hour past playing, making sure you never have to miss another beat of your favorite tunes.
TuneStart
where you will always hear the song playing on each of your favorite stations from the start, no matter how far along it is when you change the channel.
TuneMix
where you can create your own channel from a mix of your favorites to create your very own custom channel. TuneMix also gives you the ability to skip songs back to the last hour you have been listening across all channels in your mix.
SportsFlash
where you'll receive key plays and updates from your favorite teams during live games, ensuring you never have to miss the best moments.
Artist, Song and Game Alerts
where you can choose to receive alerts whenever your favorite artists, songs or sports teams start playing.
Note: A SiriusXM Connect vehicle tuner and subscription are required to access SiriusXM satellite radio (available in USA only). DAB+ radio requires the addition of an MS-DAB100A module (sold separately).

True-Marine Designed and Engineered - Built on Fusion's True-Marine design philosophy, the Apollo RA770 has an impressive IPX7 rated water resistant front panel, and has been tested to a high level for protection against salt fog, temperature, vibration and UV.

Fusion-Link - The industry standard protocol for on-water audio integration and control, Fusion-Link enables control of your entertainment directly from partnered marine Multi-Function Displays, compatible Apple or Android devices via the Fusion-Link app, and Garmin watches via Fusion-Link Lite. With multiple control options, no matter what you are doing on your boat, you can always be in control of your audio entertainment.

Multi-Zone Technology - Four independent audio zones are available for a customized listening experience across your vessel, each with advanced localized menu controls including volume limits, zone naming, disabling zones and more.
Note: Subwoofer and full range line outs require additional amplification.
SKU: MS-RA770