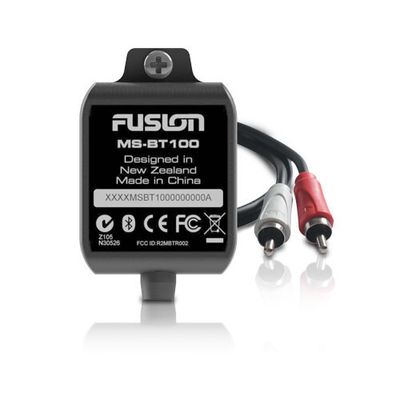 Fusion Marine Bluetooth Module BT100
Fusion
$89.00
The Fusion BT100 marine grade Bluetooth audio module will connect to any stereo with an AUX input - allowing continuous streaming from a compatible device.
It is certified IP65 water resistant and tested for the marine environment.
This Fusion Bluetooth module includes integrated marine voltage protection, which is engineered specifically to protect against voltage spikes. This added protection ensures no noise disruption.
The MS-BT100 module streams audio from any A2DP Bluetooth capable Apple, Android, Windows, Blackberry or other device directly to the connected Fusion marine stereo. It also features 'Direct Media Device Control' which allows you to quickly and easily select tracks, album, artist or playlist from your device while around your vessel. With an effective range of 10 meters, you can enjoy seamless streaming of your favourite audio tracks without having to return to the stereo to change tracks.
This module is compatible with the following Fusion stereos: MS-CD80, MS-RA50, MS-IP600, MS-AV600, MS-CD600, MS-RA200, MS-RA205, MS-IP700, MS-AV700, MS-IP700i, MS-AV700i, CA-CD700 and CA-ML600.

Specifications
Physical dimensions (WxHxD): 42 x 59 x 15 mm
Water and dust rating: IP65
Power input: 10.8-16 VDC
Current (max): 20 mA
Bluetooth: A2DP V3.0 Class 2
Bluetooth wireless range: Up to 33 ft (10 m)
Wireless frequencies/protocols: Bluetooth 2.4 GHz @ +5 dBm maximum
Cable length: 5 ft (1.5 m)
Compass-safe distance: 2″ (50 mm)
Refer to Installation Instructions
SKU: BT100