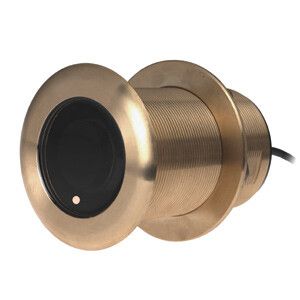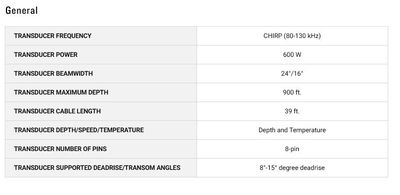 Garmin B75M and B75H CHIRP Transducer 8 Pin (Med and High THRU-HULL)
Garmin
$1,499.00
CHIRP Frequency:
MID-CHIRP
Please contact us to confirm which tilt would suit your vessel
600W Medium CHIRPS from 80 kHz to 130 kHz, 24° to 16° beamwidth. 50 kHz of total bandwidth from one transducer. Covers popular fishing frequencies of 88 and 105 kHz plus everything else in the bandwidth
Medium-frequency benefits include the ability to sound deeper than the high-frequency, along with better target resolution than the low-frequency.

When Your Living Depends on Finding Fish...
Rely on Airmar's new broadband transducers for the ultimate fishing mission. Whether you're a commercial fisherman, charter captain, or tournament angler, there's a new game in town! CHIRP transducers enable greater detail and resolution so precise it's possible to distinguish between individual baitfish, game fish, and underwater structures.

The CHIRP Difference
Traditional marine fishfinders operate at discrete frequencies such as 50 kHz and 200 kHz, use relatively short-duration transmit pulses, and use narrowband sonar transducers. In contrast, CHIRP (compressed high-intensity radar pulse) uses a precise sweep pattern of many frequencies within a long-duration transmit pulse from a broadband transducer, so the equivalent sound energy transmitted into the water is 10 to 1,000 times greater than a conventional marine fishfinder. The echo energy returning to the transducer, superior to that generated by a conventional transducer, is then processed by the fishfinder's DSP (digital signal processing) computer and displayed in ultra-sharp detail on the display. The combination of CHIRP, a broadband transducer, and the fishfinder's DSP, results in dramatically better fish and bottom detection, superior depth capability, and significantly better performance at speed.

Does YOUR Fishfinder CHIRP?
Only CHIRP/Spread Spectrum sounders using Airmar broadband transducers can operate as a CHIRP fishfinder system. When Airmar's new transducer is paired with a broadband fishfinder, the result is 5 to 10 times greater sensitivity and performance than current fishfinder technology. Packed with exclusive technology like
Transducer ID® and newly engineered piezoceramic elements. As a result, all targets detected in the entire bandwidth will be seen on the display rather than only what is identified in traditional frequencies at 50 kHz and 200 kHz.
SKU: 10000-5