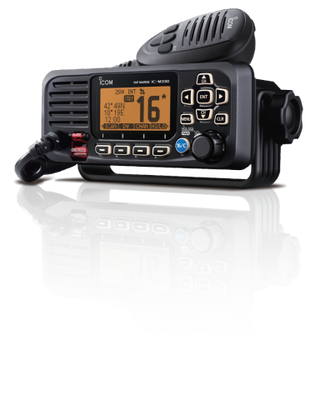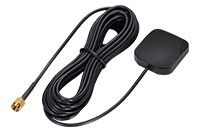 Icom M330 GE
Icom
$627.00
Top Performance Ultra Compact VHF

ULTRA COMPACT BODY, FLEXIBLE INSTALLATION - The compact IC-M330E/GE measures only 156.5 (W) -- 66.5 (H) -- 110.1 (D) mm making it ideal for a cockpit where space is limited.
INTUITIVE USER INTERFACE -A combination of the directional keypad and soft keys provides simple, smooth operation. Most used functions are assigned to soft keys for quick one push function access.
NEW SPEAKER DELIVERS DYNAMIC, CLEAR AUDIO - A newly designed speaker delivers distortion-free clear audio even at full volume. It provides dynamic and clear audio over a wide bass and treble range.
CLASS LEADING RECEIVER PERFORMANCE - The IC-M330E/GE's receiver provides reliable communication in RF busy environment like a marina. (Selectivity and IMD: more than 70 dB)
BUILT-IN CLASS D DSC - The radio monitors CH 70 continuously, even while you are receiving another channel. DSC functions include: distress, individual, group, all ships, urgency, safety, position request/report, polling request and DSC test calls.
GPS RECEIVER BUILT-IN (IC-M330GE) - Supplied GPS antenna. A built-in GPS receiver provides your location, bearing and speed by using information from GPS, GLONASS and SBAS. The acquired position information can be used for DSC calls.
MADE IN JAPAN QUALITY AND RELIABILITY - All Icom products are tested to pass rigorous in-house tests as well as environmental tests at the Wakayama Icom plant before shipping. Our world-leading products and quality is tradition.
AND MORE
IPX7 waterproof (1 m depth of water for 30 minutes)
AquaQuake™ prevents audio degradation from a water-logged speaker
Common NMEA interface for external GPS/NAV connection
MA-500TR Class B AIS transponder compatible
Tag scan and favorite channel functions
Dual/tri-watch function for monitoring CH16 and/or call channel
Priority scan function
Display and keypad backlighting
External speaker connection
3-digit or 4-digit channel display selectable
Supplied hand microphone, HM-235B/W, with channel up/down keys and a CH16/Call channel key
SUPPLIED ACCESSORIES
HM-235B/W hand microphone
DC power cable
Mounting bracket kit
GPS antenna (5 m cable)
SKU: M330GE